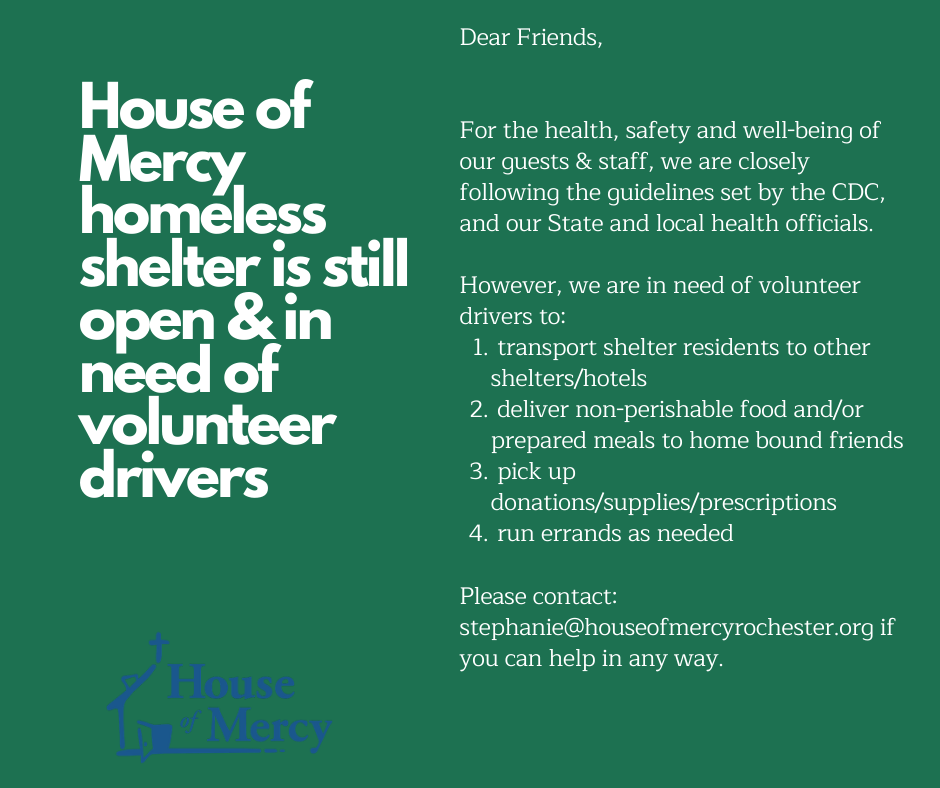 Dear Friends:
House of Mercy cares deeply about our entire community, especially our guests who experience homelessness and severe poverty. Given the nature of our mission and the people we serve, House of Mercy is highly susceptible to the Coronavirus. We are making every effort to keep the House as safe and healthy as possible, implementing preventative measures and developing a response plan. As many of us are aware, the CDC has issued some guidelines for us to follow.

We have established a House of Mercy Coronavirus Task Force that will meet frequently to review our preparedness and planning. Our current priorities are:
Practice & promote good hygiene
Communicate regularly with our donors, staff, volunteers, and guests
Review and enhance current guidelines and practices
Develop a Continuity of Operation Plan
The health and safety of all that come to the House including our guests, volunteers and visitors is of utmost importance to us. If you or someone you know has a fever, cough or sneezes, please refrain from coming to The House.
Pope Francis calls us to care for those who are vulnerable.
"Taking care of those who are sick or struggling with illness requires taking care of the whole person – including their spiritual needs," Pope Francis said. Offering care and healing is focused not just on "the disease of an organ or of cells but of the person in his or her entirety," he said.
We will continue to share updates as they become available including temporary changes to our services and programs. All updates will also be posted on our website at www.houseofmercyrochester.org. Please stay safe and healthy and continue to pray for the health and wellness of all at The House, those affected by the virus and all caretakers who are working so hard to slow this virus.
May God Bless You,
Sr. Grace
PS. You may also visit our Amazon wishlist to help where needed most.