He's a veteran of manufacturing management. And he holds a BA and an MBA from Michigan State. But these days he's happier with a hammer in his hand.
Fixing holes. Renovating. Remodeling. Patching up our worn out House of Mercy building on Hudson with baling wire and duct tape. And providing an inspiring role model for every House supporter and volunteer.
Meet Bernie Sass, Chairman of the Board of the House of Mercy.
Jumping in with both feet
After a 30-plus year career working for prominent companies like Xerox and ITT, this dedicated member of St. Mary's of the Lake in Ontario, N.Y., retired. And right away he began looking for ways to make a difference in the Greater Rochester community.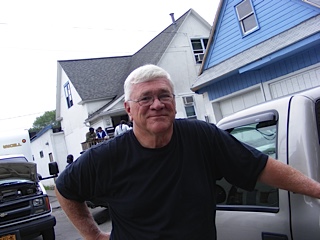 One day he showed up to learn about The House of Mercy, the only place in Rochester that never closes its doors on people in need.
"The House has a Mother Teresa role in our community, serving the poorest of the poor," he explained. "And Mother Teresa has always been one of my heroes. So this was a natural place for me to volunteer."
Not long after that first meeting, C.W. called him to help fix up a house that would give homeless people trying to survive around the train station a safe place to live.
"The house was donated, but it was a complete wreck. I probably spent six months there helping to completely remodel the place."
That was four years ago. Now Bernie's a mainstay of the House, working Monday through Friday as a carpenter, maintenance man, unofficial co-manager of facilities and collaborator with other House of Mercy leaders.
"I get more back than I give. That's the nature of this kind of work. The rewards are immense. And it all comes at a good time in my life when I'm able to give my work to a cause I believe in without expecting or wanting anything in return."
Charting a path to the future
As the Chairman of the Board, he's also deeply involved in the effort to keep the doors of the House of Mercy open in the months and years ahead.
"We have a lot of challenges. Our facilities need constant repair, and we really need to find a better place for our mission. We operate on a shoestring budget. And we have to find someone who can continue Sister Grace's work in the future.
"There are no easy answers. But we know that hundreds, even thousands of the poorest people in our community depend on The House of Mercy. So we can't let them down."
A unique perspective on The House of Mercy
Whether he's weather stripping windows or leading a strategic management meeting, Bernie has an inside view of The House of Mercy. And what he sees deepens his appreciation for one of Rochester's most remarkable institutions.
He mentions an incredibly long list of House activities. Providing food, clothing and shelter. Helping people pay utility bills, get medical and dental assistance, and deal with government agencies. Delivering life-saving support to people struggling with mental illness and substance abuse. Handing out donated items to the residents of one of Rochester's poorest neighborhoods. Making arrangements for tutors and sending children to summer camp. Providing burial assistance…The list goes on.
"Wherever they see a need, they respond with everything they have, including their personal resources. And no one is ever turned away. They do so many things here for the poorest of the poor in our community. And they do it all with only two paid staff members and an army of volunteers. It's really a remarkable story."
"Something else that really touches me," he continued, "is that there is a true respect for everyone who comes in the door. Everyone is treated with dignity. And they never give up on people. Those are just some of the things that motivate me to stay involved."
It may seem like a big step from a career in manufacturing to The House of Mercy. But for Bernie—a man of unshakable sincerity–it's simply an expression of his Christian faith.
"I just believe it's important to serve the poor if you're a Christian," he said simply.
That compassionate, action-oriented philosophy explains why Bernie shows up with his carpentry tools at The House of Mercy every week, Monday through Friday.
"If Jesus can serve the poor, why can't I," he said finally, "especially if I do it in His name."