Sanctuary Village was a temporary homeless shelter, designed to provide shelter and support to chronically homeless men and women during the winter of 2014-2015.  Over the course of nearly 3 months during one of the coldest winters in recent memory, Sanctuary Village sheltered more than 200 people.  Sanctuary Village was an unprecedented collaboration between the House of Mercy, Buckingham Properties, and the City of Rochester.  Although it opened in January 2015, the roots of the program took hold several months before.
For many years, several men and women lived in the Civic Center Garage in downtown Rochester.   As the only heated garage in the City and close to several provider agencies and resources, the garage was an attractive location for the chronically homeless.  Many found privacy in the nooks and crannies of the garage and outreach workers and religious groups visited the garage to provide assistance and sustenance to those staying there.
However, patrons who parked in the garage on a regular basis began to complain about sanitary and safety concerns and the LDC board that runs the garage decided to close it as a place to sleep.  A cadre of homeless advocates, led by Sister Grace Miller and the House of Mercy, protested the closing of the garage until a safe and proper alternative was established.  Several groups involved formed an education and advocacy group which became the Monroe County Coalition of Concerned Citizens.  The group met regularly to discuss strategy, advocate for the homeless, and devise a plan to address the issue.  All parties involved agreed on one thing: a parking garage is not suitable housing for anyone.  The Coalition requested the garage remain open until a new location was found or individuals were placed in other shelter or housing programs.  Despite these efforts, the garage was closed to the homeless in August 2014.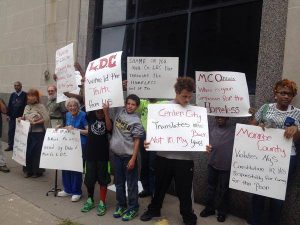 In October, several homeless men and women and the Coalition formed a tent city in Washington Square Park in downtown Rochester.  The purpose of the tent city was two-fold:
(1) An act of nonviolent civil disobedience demonstrating the need for more housing for the chronically homeless.
(2) Provide a single, central location for those displaced by the closing of the garage and other street homeless.
Through negotiations with the City of Rochester, after three days the tent city was moved from the highly visible Washington Square Park to a more secluded location under the Fredrick Douglass-Susan B. Anthony Memorial Bridge.  Both the City and homeless advocates agreed to work together to devise a more permanent solution that would provide shelter and/or housing for the chronically homeless and eliminate the need for the tent city.  At this point the tent city was given a name: Sanctuary Village.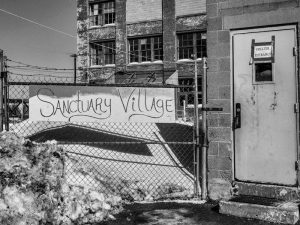 Until a more permanent solution could be created, Sanctuary Village would be a refuge and community for 30-40 homeless men and women.