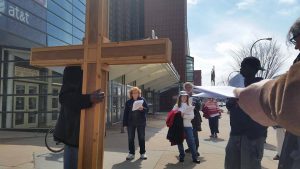 Every day at the House of Mercy is a busy day but Holidays are even busier. With Easter less than two weeks away everyone is working around the clock to prepare. Our celebration starts on Holy Thursday with a spiritual washing of the feet, followed by the stations of the cross around Rochester on Good Friday, Saturday we will be holding an Easter vigil. On Easter Sunday we will be cooking a hearty meal for over 300 guests. On top of that we hand out boxes of food to members of our community and make 125 Easter baskets for children who would normally go without.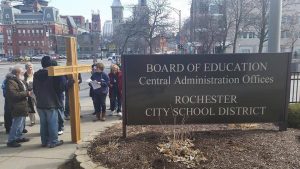 Easter is a time meant to spend with family and loved ones. For many of the people we serve we are their only family due to many years of burnt bridges and lost connections that go hand in hand with extreme poverty. We do our best to make this a joyous occasion for all. If you are interested in helping below are the items we need for Easter.
Our Easter Wish List
– 125 Easter baskets and candy/ small toys to fill them 
– Easter Lilies for the vigil (needed by 3/26)
– 40 chickens (needed by 3/25)
– 40 pork loins (needed by 3/25)
– 40 hams (needed by 3/25)
Easter donations can be brought to the House of Mercy at 725 Hudson Ave. There is always someone at the House ready to take donations. Online donations can be made from our Amazon Wish List. We never close our doors on people in need. It is our mission to provide the love and assistance they can find nowhere else in this world.